---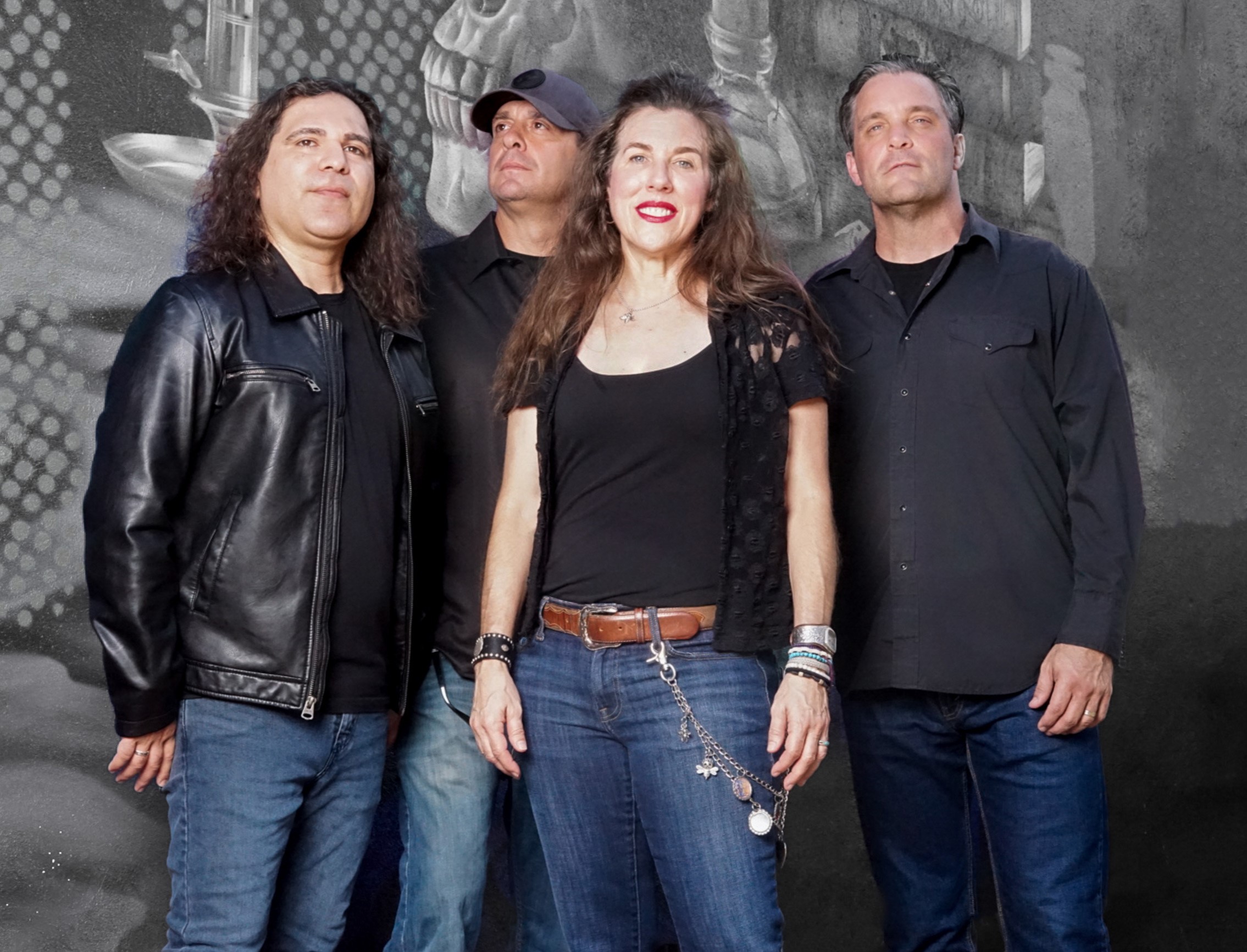 Established in 2011, Carol Pacey & the Honey Shakers is notable on the Phoenix local music scene with upbeat, catchy songwriting, big vocals, memorable guitar and bass riffs, and pounding drums so it is easy to understand the creation of their own musical genre "Americana-thrash-pop" as coined by Phoenix music writer, Mitchell Hillman, formerly of Java Magazine and contributor to Phoenix New Times.
---
Notable Dates
2023: Remixed, remastered and rereleased LP Eyes on the Prize, opened for Zoso
2022: Opened for the Smithereens with guest singer, Robin Wilson of the Gin Blossoms
2021: Released single Wasted Days and Wasted Nights, released video series for Bliss on YouTube
2020: Released single If Romance is Dead Then I Want to be Dead Too and Love Does with Big Stir Records
2019: Released LP Bliss, released Crumb with Big Stir Records and opened for 10,000 Maniacs
2018: Opened for Dramarama and nominated Best Band/Musician, Phoenix Magazine
2016: Released LP Eyes on the Prize and Carol listed top 10 best female-fronted Bands in Phoenix, Amy Young, Phoenix New Times
2014: Released LP Yeah Yeah Yeah
2013: Leading front-women in Phoenix by Sarah Edwards, Valley Hype
---
The Band
Carol Pacey: Vocals & Acoustic Guitar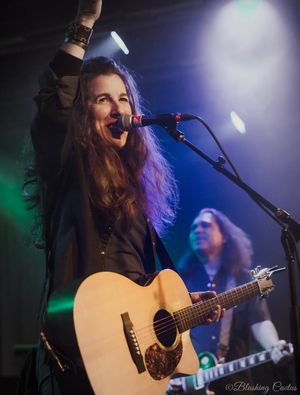 Carol followed her heart to Arizona from Maryland and she is definitely glad she did! Always with a song in her head, her musical influences span a variety of female & male singers and their songs. Carol has her local Arizona loves, of course, as well as loves in classic country, rock, pop, and punk bands from the US and around the world! She is often asked where she gets her on-stage energy from and she'll gladly answer that it comes from the audience who is dancing and singing right along! Carol started her acoustic journey as a soloist in 2008 and stayed that way, for the most part, until Andy Borunda happened in 2011!
Andy Borunda: Lead Electric Guitar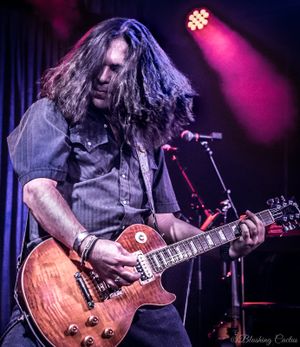 Andy is an Arizona native and has been playing the guitar for over two decades. He is mostly self-taught as after a couple of weeks in guitar class the instructor said, "There's nothing more I can teach you. Go ahead and learn on your own." Andy has since developed his sound and technique over the years and cites Jimmy Page, Ace Frehley, and Slash as his main influences on the guitar while also being immensely inspired by bands such as The Beatles, Cheap Trick, and The Replacements. Andy loves playing electrically and acoustically equally and uses a Gibson Les Paul and a Taylor 614CE acoustic for live shows and includes a Fender Telecaster for studio work. At the end of the day, Andy sums it up best, "I'm a musical sponge and I just love playing music." Andy named the band when he joined in 2011!
Ben DeLuca: Drums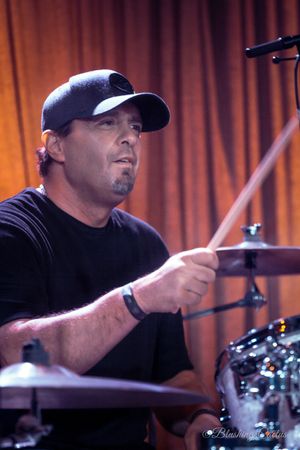 Ben is originally an east coast boy hailing from the D.C. area, and as a kid, he loved to make noise, learning to play multiple instruments with a special talent for banging on things. On the advice of such icons as Jim Morrison and Horace Greeley, he headed west, dug the AZ way of life, and never looked back. Ben has an appreciation for many genres and artists, and what he'll tell you he's learned from those who have influenced him musically is that, "Music is a universal language that allows us to express that which we cannot by other means, it is like medicine for the soul." Ben's been a member of the band since 2012.
Reed Fox: Bass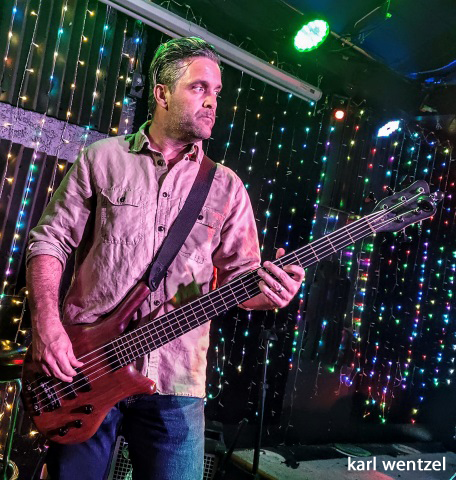 Reed lays the low-end foundation for the band on bass guitar. Originally from Milwaukee Wisconsin, Reed arrived in sunny Phoenix, AZ in 2006.  At a young age he started playing the piano and at age 14 he wanted to play the guitar.  But, after wandering the music store for a while he left with a bass guitar instead.  From that day forward he has thumped the bass in many bands in a variety of genres from rock to country, jam to ska.  Paul McCartney and the Beatles started his music journey, and Pink Floyd expanded the boundaries. Reed's been a member of the band since 2023.  
---

Notable Touring & Arizona Acts With Whom CPHS Shared the Stage
Dramarama (CA), 10,000 Maniacs (NY), The Smithereens (NJ), Classless Act (CA), ZOSO (CA), Christopher Shayne (AZ), Pistoleros (AZ), Persuaders (AZ), Brian Blush (AZ), Black Moods (AZ), Crimson Riot (NV), Left Lane Cruiser (IN), Banditos (AL), Buckshot George (KY), ClusterPluck (MO), the Ditchrunners (WI), Midnight Clover (NV), SIRSY (NY), Roxy Gunn Project (NV), Whitherward (CA), New Schematics (TN), Erica Blinn & the Handsome Machine (OH), Crosby Tyler (CA/TN), Anna Maria Rosales (TX), Val and the Southern Line (TX), the Paragraphs (TX), Life Leone (TX), A House for Lions (TX), Ryan Dishen (TX), Roger! (TX), Rosie & the Ramblers (TX), Shane Cooley & the Midnight Girls (TX), Greg Schroeder (TX), Deeper Than the Ocean (NY), Colton and Zara Band (KS), The Less is More (MI), Greg Rekus (Canada), the Stanleys (Australia) 
---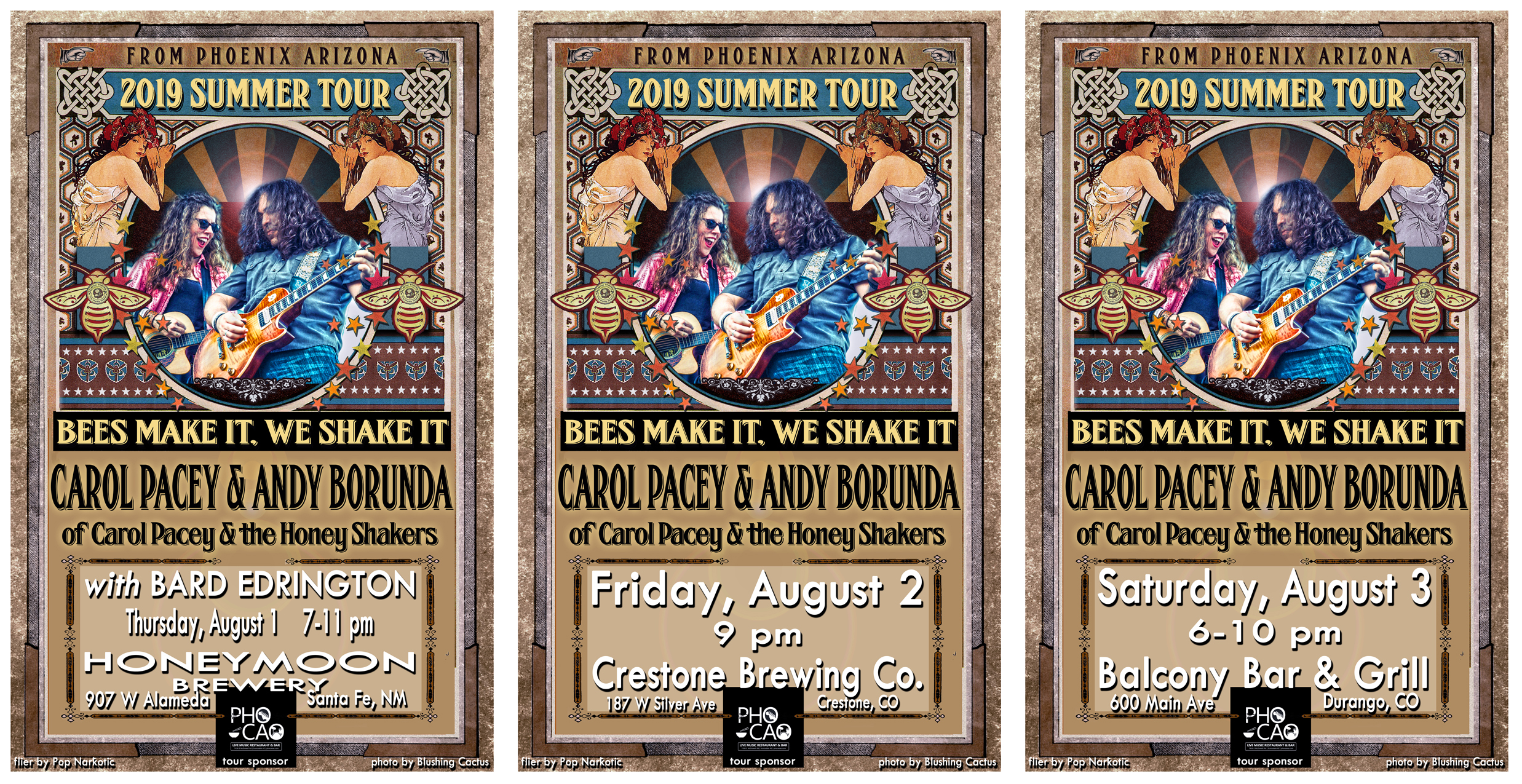 Touring Performance States, Cities & Venues Performed
ARIZONA: Tucson - Hotel Congress Plaza, R Bar; Sonoita - Arizona Hops & Vines; Cottonwood – Main Stage, Pillsbury Wine Tasting Room, Rockin' B Saloon; Bisbee – Bisbee Grande Hotel & Bar, Hitching Post, Room 4 Bar, Old Bisbee Brewing Company, Wiggle Room, The Courtyard, Sidepony Express Music Festival; Jerome – Spirit Room; Kingman – Brews & Brats Oktoberfest; Flagstaff – Coconino County Fair, Flagstaff Brewing Company, Wanderlust Brewing Company, Campus Coffee Bean; Sedona – Sedona International Film Festival, Java Love Café; Prescott – Drunken Lass, Prescott Fine Art & Wine Festival, Brick & Bones, Beckyfest, Prescott Farmers Market; Casa Grande – Pinal County Fair
CALIFORNIA: Los Angeles – The Redwood Bar & Grill; Burbank – Joe's Great American Bar & Grill
COLORADO: Crestone – Crestone Brewing Co; Boulder – The Laughing Goat; Windsor – High Hops, Durango – Balcony Bar & Grill Backstage
NEVADA: Las Vegas – House of Blues, Thunderbird Hotel and Lounge, Freakin' Frog
NEW MEXICO: Santa Fe – Honeymoon Brewery
---
Arizona Main Stage Events & Festivals Performed
Ball-A-Palooza, Chandler Block Party, Flannel Ball, Local First Arizona Fall Fest, Lost Dutchman Days, Maricopa Community College Empty Bowls Charity, Melrose on 7th Avenue Street Fair, Phoenix Festival of the Arts, Phoenix Film Festival, Scottsdale Arts Festival, Tempe Music Revival, Tempe Oktoberfest, Third Thursdays Hayden Flour Mill
---
Arizona Events & Festivals Performed
12ks of Christmas, 3TV Phoenix 10K, AIDS Walk Phoenix, Ales & Artsy, Apache Lake Music Festival, Arizona Cancer Village Fun Run, Arizona Dragon Boat Festival, Arizona State Fair, Chandler Ostrich Festival, City of Buckeye Live Music Series, City of Tempe & ASU Tailgate, Desperado Film Festival, Gilbert Art Walk, Glendale Glitter & Glow Block Party, International Pop Overthrow Festival, Lost Dutchman Motorcycle Club, Maricopa County Fair, McDowell Mountain Music Festival, New Times First Friday at Revolver Records, Phoenix Film Festival, Phoenix Pride Festival, Proof is in the Pudding at Alice Cooperstown, RAW: Natural Born Artist, Second Friday Downtown Mesa inside SunDust Gallery, South by South Roosevelt Music Festival, South Mountain Community Relay for Life, Summer Ends Music Festival, Sunnyslope Art Walk, Tempe Oktoberfest, Ten Year Anniversary Cornish Pasty, The Barrow Neurological Institute at Phoenix Children's Hospital Annual Fundraiser, The Holly Hope Foundation Annual Fundraiser, Valley Fever
---
Arizona Venues Performed
1227 Tap Room, Alice Cooper'stown*, Arizona State University, AZ Wine Company, BLK Live*, Bookman's Mesa, Bourbon Jacks, C.A.S.A Sunba*, Cactus Jacks, Chopper John's, Club Red, Crescent Ballroom, Cutting Board Cafe*, Desert Eagle Brewing Company, Desert Ridge Marketplace, Duck and Decanter, Dynamite Brewing Company, Fiddlers Dream, Firehouse Gallery*, Gluttons*, Goldwater Brewing Company, Gotham City Comics, Hard Rock Cafe Phoenix, Hollywood Alley*, Hotel Valley Ho, Ice House Tavern*, Irene's Tap Room*, Last Exit Live, Lawn Gnome Publishing, Listening Room*, Long Wong's at Apache*, Lostleaf, Marauders*, Marquee Theater, Montage Art Studio on Mill, Music on Mill*, Parley, PAZ, Pho Cao, Phoenix Ale Brewery, Prankster's Too*, Rebel Lounge, Rhythm Room, Rips, Rockbar, Rogue Bar*, Sail Inn*, SanTan Brewing Company, SanTan Gardens - Brewery & Distillery Tours, SanTan Village, Shady Park, Simple Machine Brewing, Stumblina's Cantina, SunDust Gallery*, Tap Dragon, Tempe History Museum, Tempe Marketplace, Tempe Tavern, Western*, Womack, ThirdSpace*, Ticoz*, Time Out Lounge, Unity Through Community, Valley Bar, Westgate City Center, Wrigley Mansion, Xtreme Bean, Yucca Tap Room
*R.I.P.
---
Arizona Acts With Whom CPHS Shared the Stage
¡Compañeros!, 1140s, 13 to the Gallows, 36 Cents and a Dream, Action Jets, American Longspurs, Ana Log, Andy Warpigs, April Anne, Armando Moreno & the Revival, Battered Suitcases, Bayou Bandits, Ben Anderson, Big Finish, Birds & Monsters, Bitch Automatic, Black Carl, Black Mountain Moonshine, Black Rabbits, Brea Burns & the Boleros, Brian Blush, Bucket of Witches, Cait Brennan, Casey James Brooks, Cockswain, Counterfeit Party, Craig Green Band, Craig Wallach, Crandall, Crossfire Lounge, Coyote Tango, D.G. Scherrer, Daphne & the Glitches, Darkness Dear Boy, David & the Guitar, Day Before Plastics, Dead Eyes of London, DeadFoxx, Delta Fifths, Dfactor, DL Marble, Doug Preston & the Soul Searchers, Drew Cooper, Dylan Sloan, El West, Eric Underwood Band, Exploding Oranges, Fat Gray Cat, Field Tripp, Fu, French Girls, Frequency Principle, Gene Moran, Ghost Cat Attack, Gnarwhal Jrz, Grave Danger, Green Line Operator, Gregg Myers, Gus, Hallyways, Harper & the Moths, Horizon i, Hunter Johnson/the Regretting Man, Instant Hobo, Interstate Heros, Jackson Dife', Jamie Waldron Trio, Jane N' the Jungle, Japhy's Descent, Jeff Gonzales, Jeremiah Craig, Jim Bachmann, Joe Pena, Johnny Lee, Katie Mae & the Lubrication, Kevin Daly's Chicken and Waffles, Kingfathand, Koza, Labor Party, Lee Perreira, Liar's Alibi, Lo-Fi-Hi, Los Jones, Maggie O'Shea, Manic Monkeys, Marc Norman, Mariah DeRaet, Maxel Rose, Maximum R&B, Mill's End, Mister Lucky, Monster May I, Moons, Mr. Eastwood, Murphy's Outlaw, Nickle City, Nolan McKelvey, O' Henry, Objective Perspective, Outlaw Inlaws, Persuaders, Pinner, Pistoleros, Please, Psycho Square Dance, Quarter Inch Crown, Random Karma, Rockin' Chair, Roll Acosta, Romen Buffalo, Rose Colored Eyes, Ruca, Safety Patrol, San Jacinto Prison Band, Sarah Robinson Band, Scorpion vs. Tarantula, Serene Dominic & the Human Torch, Shane Hunt, Sister Lip, Skink, Smiley Draco, Soul Country, Squiddog, St. Pop, Sub Space, Taylor Glasheen, the Banter, the Bellwethers, the Bittersweet Way, the Blinding Suns, the Breakup Society, the Cole Trains, the DanDan Noodles, the Earps, the Effects, Thee Stillnites, the Frogstranglers, the Glides, the Hardways, the Lonesome Wilderness, the Lovelost, the Minor Injuries, the Naked Chollas, the Phosphenes, the Pleasure Victims, the Pubes, the Redemptions, the Senators, the Sintrics, the Torn Speakers, the Upper Strata, the Woodworks, Tin Can Screamers, Tjames/Echolalia, Tommy Ash Band, Tora, Torn at the Seam, Tramps & Thieves, Treasurefruit, Truckers on Speed, Two Seven Kilo, Watch for Rocks, Whiskey Kiss, What's Left, Why Ask Why, Young's Modulus, Zack Phillips
---
About the band written by Carol Pacey with excerpts from Mitchell Hillman along with band photos from @Zakirsphotos (IG), Blushing Cactus Photography and Karl Wentzel.